–      Buamim: More space for the private sector to boost Africa's inter-regional trade performance
–      Africa's exports to UAE registered a cumulative annual growth rate of around 11% over the last five years
–      UAE was Africa's 19th major export destination with 1.1% of Africa's world total exports
–      Continent's current trade level below potential
–      Efforts to boost Africa regional trade has focused on the elimination of trade barriers and less on the development of production capabilities
Dubai, UAE: Ahead of the 3nd Africa Global Business Forum (AGBF) which will take place on 17 and 18 November in Dubai, the Dubai Chamber of Commerce and Industry, has developed a research paper highlighting economic and investment potential in Eastern and Southern Africa and its potential to drive increased imports and exports through Dubai.
The formation of Africa's Tripartite Free Trade Area between 26 African states, is expected to benefit the economic cooperation between Africa and the UAE. Dubai represents the Africa gateway to Asian markets, Africa's major trading partner. As a major trading partner, and with increased Africa-intra trade, more exports and imports will be transited through Dubai.
H.E. Hamad Buamim, President and CEO, Dubai Chamber, stressed that while imports and exports had seen impressive growth at 10% and 11% respectively (2009-2014), he said that it is essential to create more space for the private sector to perpetuate the integration process. This creates potential opportunities for foreign investments to take place in Africa to help boost its productive capacity and to overcome other obstacles.
He added that the development of African trade would drive up the rate of per capita income, which in turn will lead to the growth of services such as schools, hospitals, banks, and transportation and other sectors. He also said that among the many investment opportunities posed by the continent, the UAE has competitive advantages in areas such as ports management, infrastructure, telecom, transportation, and hospitality.
The President and CEO of Dubai Chamber also flagged that Dubai has become one of the most important commercial, financial and logistics centers for many of the African countries on the back of Dubai's strategic location, connectivity and world class infrastructure and attractive business environment.
In order to further facilitate exploring business opportunities for UAE and Dubai businesses in Africa, the Dubai Chamber has opened two representative offices in Ethiopia and Ghana and will soon another one in Mozambique. It is also organising the Africa Global Business Forum, for the third consecutive year, which will discuss growth potential in Africa – including technology, funding tools such as pension funds, as well as the impact of low oil and commodities prices on growth.
The research paper highlighted that the UAE was Africa's 19th major export destination with 1.1% of Africa's world total exports.  Africa's exports to UAE registered a cumulative annual growth rate of about 11% over the last 5 years 2009-2014. Moreover, the UAE is Africa's 18th major import supplying market with a share of 1.6%. UAE exports to Africa have registered 9.6% cumulative annual growth rate over the same period.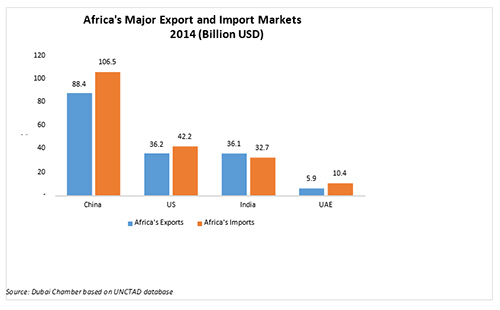 The Chamber's research paper highlights that the formation of the prospective Africa's free trade area, in the medium term, will bring about major economic and structural reforms in most of the African economies. The projected increase in Africa's private demand and government development expenditures are expected to encourage more investments in Africa. Over the last decade, Africa was considered among the most important investment destinations on the UAE investment map even before the announcement of the African free trade area. Furthermore, the establishment of a free zone of this size among Africa's largest trade blocs requires solid infrastructure to increase Africa's productive capacity, whether it be the establishment of land routes, rail or air, establishment of power stations, set up of warehouses and silos, refrigerators, expansion and enhancing  operational efficiency of the African banking sector.
The three blocks to form the free trade area are the Southern African Development Community (SADC); the East African Community (EAC) and the Common Market for Eastern and Southern Africa (COMESA). The created free trade will encompass on average about 61% of Africa's total GDP – about USD1.5 trillion and a number of big countries with huge growth potential, such as Ethiopia, Kenya and Mozambique. The agreement is expected to come into force by 2017.