The CFAO YAMAHA assembly plant was officially opened in Lagos, Nigeria to assemble two motorcycle models: the Yamaha Crux and the Force X Royale, both destined for the Nigerian market. Located in the Amuwo Odofin industrial zone, the plant is expected to produce 70,000 units by 2018.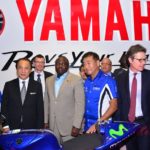 A showroom will present other Yahama products such as outboard engines, personal watercrafts (WaveRunner), all terrain vehicles (ATV), generateurs and Yamalube lubricant products. In Nigeria, all of these products will be exclusively distributed by CFAO Yamaha Motor Nigeria Limited. The assembly plant and showroom inaugurated last Friday are the result of a partnership signed between CFAO and Yamaha at the end of 2014.
This partnership aims at meeting demand from the Nigerian market and supporting the government's drive to strengthen the country's industrial base. According to Richard Bielle, Chairman of the Management Board of CFAO: "The strength of this partnership builds on Yamaha's manufacturing expertise and CFAO's sales expertise and vast distribution network. The inauguration of this plant celebrates CFAO's strategic redeployment in Nigeria in our three business sectors: equipment & services, healthcare and consumer goods." The assembly plant also houses the Yamaha Technical Academy, a training centre for technical professionals, and the Yamaha Riding Academy, a road safety awareness centre.
---
About CFAO
CFAO is a front-ranking specialized distributor and preferred partner of major international brands, serving the high-potential equipment & services, healthcare and consumer goods markets in Africa and the French overseas territories. The Group is active in 39 countries, including 34 African countries and 7 French Overseas Territories. It employed 12,370 people at end-2015. In 2015, CFAO generated consolidated revenue of €3,435.7 million and recorded recurring operating income of €269.2 million. CFAO is a 97.74%-owned subsidiary of TTC (Japan). CFAO is listed on NYSE Euronext Paris.