Nigeria has appealed to Emirates and other airlines not to scale down operations to and from the country arguing that it is addressing the currency crisis and fuel shortages that have hit airlines' operations to Nigeria. Nigeria's naira has substantially depreciated against the U.S. dollar  in recent times due to the impact of low oil prices worldwide and a central bank move in June to scrap a dollar peg. Emirates has announced that it will be suspending its four times a week service between Dubai and Abuja from October 30.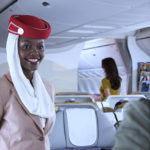 As a result of currency devaluation, domestic and international carriers have struggled with the plunge in the naira, which has made bills for imported jet fuel more expensive and squeezed profit margins as many passengers pay in the local currency.  Nigeria's Minister of State for Aviation Hadi Sirika said he had told an Emirates west African executive that the government was aware of the challenges affecting airlines and was working hard to resolve them. He said he had asked Emirates and other airlines to reconsider their decisions due to the impact on customers.
Kenya Airways has also announced plans to suspend flights to Abuja by November, 2016. United and Iberia both stopped services to Nigeria earlier this year. Both Emirates and Kenya Airways will continue to serve Nigeria with a flight to and from the country's most populous city and commercial capital, Lagos. To avert a full currency crisis, the central bank has held a two-month dollar forward auction to clear a backlog of demand from airlines and other companies.