President Yoweri Museveni is in Dubai to attend the 4th Global Business Forum on Africa – a series, held under the patronage of Sheikh Mohammed bin Rashid Al Maktoum, Vice President and Prime Minister of the United Arab Emirates and ruler of Dubai was launched by the Dubai Business Chamber of Commerce and Industry in 2012. It focuses on Africa, the Commonwealth of Independent States (CIS) and Latin America. The Dubai Forum is being held under the theme "Next Generation Africa".
Global Business Forum on Africa is the largest Africa-centric conference to be held outside the African continent and will examine the current economic outlook for the continent, explore prospects for its development, as well as investment opportunities and the potential for forging partnerships between Africa businesses and their UAE counterparts.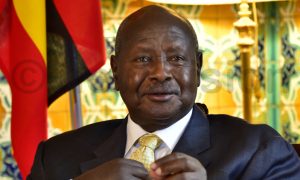 The president and CEO of the Dubai Chamber of Commerce and Industry, Hamad Buamim, says African economies are witnessing remarkable growth at the moment, offering exciting business opportunities in a wide range of sectors and therefore it is an ideal time to examine the trends in more detail and determine how Dubai could play a greater role in facilitating Africa's future growth.
Baumim further observes that the Global Business Forum on Africa, which is set for an unprecedented top-tier attendance, including distinguished African Heads of State and Ministers, is a testament to Dubai's firm position on the global economic map.
Other African leaders who are expected at the Forum include Presidents Paul Kagame of Rwanda, Edgar Lungu of Zambia, Ameenah Gurib-Fakim of Mauritius and Danny Faure of Seychelles.