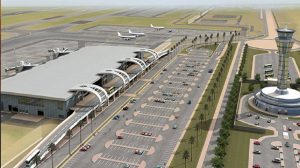 Senegal is all set to inaugurate a new international airport, the Blaise Diagne International Airport on December 7, 2017 with the aim of easing congestion in the capital, Dakar, where the West African nation's biggest airport is based.
Blaise Diagne International (AIBD) will have initial capacity for three million passengers per year, rising to 10 million per year, making it one of the highest-capacity airports in Africa. Blaise Diagne will take over services from Senegal's current flagship airport Léopold Sédar Senghor International in Dakar, which will cease operations.
The Blaise Diagne International Airport will employ at least 500 people and is based in Diass, near the new city of Diamniadio, about 40 kilometers (25 miles) from Dakar.
The industrial zone in Diamniadio, built to alleviate pressure on Dakar, will also start operating in December. A packaging company from Tunisia is already based on the site and two other Chinese companies will soon follow. The government has also allocated funding for the construction of a $1 billion urban railthat will link the new airport to the capital city of Dakar.