Eko Atlantic City is a planned district of Lagos, Nigeria, being constructed on land reclaimed from the Atlantic Ocean. It is located on Lagos' Bar Beach. Upon completion, the new island which is still under development is anticipating 400,000 residents and a daily flow of 250,000 commuters. The development will also have a positive environmental impact; its purpose is to stop the erosion of the Lagos coastline. The Eko Atlantic City project received global recognition in 2009, as the Lagos State government and its private sector partners on the Project, South Energyx, received the Clinton Global lnitiative Commitment Certificate.
Eko Atlantic, touted as "African Dubai", with luxury flats, several marinas, commercial centres and offices, will be totally auto-managed with its own water and electric power supplies and even its security system is independent.
The ten square kilometre development will have waterfront areas, tree-lined streets, efficient transport systems and mixed-use plots that combine residential areas with leisure facilities, offices and shops.
Eko Atlantic will enhance the status of Lagos and create a new and stronger financial hub for the whole of West Africa.
Building a new city that will become the financial centre of Nigeria, if not West Africa, is a major undertaking. The scale of the Eko Atlantic project is immense and progress is being achieved through a team effort between investors, planners, engineers and contractors.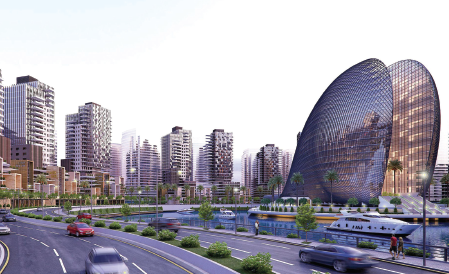 The development brings together private individuals and companies who have the knowledge and expertise to transform land lost to the power of the sea into an ocean-front city that will be one of the wonders of the 21st century.
The multibillion-dollar investment is provided solely by private investors. Those already on board include local and international banks – First Bank, FCMB, Access Bank Plc. and GT Bank in Nigeria, BNP Paribas Fortis and KBC bank – as well as a growing number of private investors. Prime investment property opportunities are available for private companies and individuals, which are proving very popular; investing in Africa has never been more attractive.
The job of planning and building Eko Atlantic involves many different contractors and partners; some are based in Nigeria while others are international companies that are bringing their unique skills to the Lagos development.
Eko Atlantic is evolving rapidly from a visionary design concept into reality. Infrastructural road works are already in progress and underground surface drainage pipes are being laid along major routes in the new city. Piling works are also underway for the many bridges in Eko Atlantic. The Great Wall of Lagos sea revetment, which is being built more than two kilometres offshore and had reached 3.5 kilometres in length by early 2013, is now protecting over 5 million square metres of Eko Atlantic and Victoria Island as a whole.
Dredging is continuous and we sometimes move as much as 10,000m³ of sand each day. Sand-filling for phase one was completed in April 2011. Well over 3 million square metres of land had been reclaimed by March 2012. A year later the Nigerian President, Dr Goodluck Ebele Jonathan and the 42nd President of the United States of America, Bill Clinton, led a dedication ceremony for the completion of five million square metres of land for Eko Atlantic.
Great Wall
Before the first of the giant concrete armoured blocks for the Great Wall of Lagos was lowered into position, its ability to withstand the worst of the Atlantic tidal surges was put to the test. Urban engineers at DHI, the world-renowned Danish hydraulic research centre, carried out extensive scale model trials. Data analysis by computer models showed that the Great Wall could withstand the worst expected storms over 1,000 years.
When it's complete, the Great Wall of Lagos will be over 8 kilometres long. It is made from 100,000 concrete blocks (accropodes) weighing 5 tons each which interlock loosely to form an effective barrier that dispels the force of the waves and provides the primary armoured sea defence. Beneath the accropodes are various layers of rock that function as the secondary armour and core.
In the first quarter of 2013 the Great Wall of Lagos was passing the halfway construction stage at 3.5 kilometres in length and is growing at the rate of about 6 metres a day. In its completed form it will protect not only Eko Atlantic, but Victoria Island as well.
The Belgian company, Dredging International, a leader in this field of engineering, leads the sand-filling work. Dredging is operational around the clock. This massive undertaking is being carried out with great care and efficiency to reclaim land that our grandparents walked on as children.
By the time the work is completed, they will have moved 140 million tons of sand – that's 95 million cubic metres.
BUSINESS DISTRICT
The Business District of Eko Atlantic will be completed during the first phase of building. The foundations are well under way and investment interest is strong.
The most impressive feature of the Business District will be a spectacular central boulevard that will be about two kilometres long and 60 metres wide. It will be similar in size to the Champs-Élysées in Paris or Fifth Avenue in New York.
The whole Business District will be spread over some 700,000 square metres of signature development opportunities.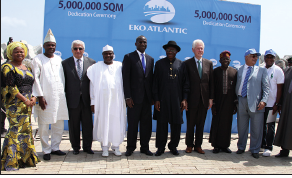 At the northern end of the boulevard stands an iconic building, which will be about 50 storeys in height and its acquisition represents the highest level of investor confidence in our emerging city. The boulevard will have a six-lane carriageway for traffic and a world-class landscaped central reservation.
This wide avenue will feature an array of additional towers climbing no more than 35 floors, turning this inspirational development into a powerhouse for corporate, financial and commercial activity.
As the centre for finance in Eko Atlantic, the Business District will also feature the keynote addition of Eko Mall, a luxury outlet for retail and commercial use.
In addition to carefully controlled city-wide basement and multistorey parking, more parking spaces will be allocated on the first or second floors of all the buildings, connected by overhead walkways. The ground floor units, which will have direct access on to the streets, will be reserved for shops, bars, cafés and restaurants. Strolling along the wide pavements will be a pleasure, with plenty of opportunities to meet friends or clients for a drink or a meal.
Ocean Front
The Ocean Front district of Eko Atlantic will stretch along the Nigerian coastline with breathtaking views over the Atlantic Ocean.
This mainly residential area will have an open, modern feel and will have many facilities and attractions for tourists visiting the new city. It is close to all of the other districts and will be a great place to head out to in the early evening to enjoy sunsets over the ocean.
Coastal Promenade
This will sweep along the entire waterfront with bold landscaping, tree-lined streets and lush green gardens. The promenade will be lined with attractive modern buildings, many of them hotels that will make the most of the stunning ocean views. Mixed-use developments will be a major feature of the Ocean Front district, with residential properties at higher levels, plenty of parking and cafés, bars and restaurants at street level. Many of these will have outside areas to relax and enjoy the magnificent views.
With tourists and visitors to Nigeria in mind, the area will also have a range of leisure facilities, including a water park, cinemas, theatres and shopping centres. A spectacular tram ride along the entire length of Ocean Front by day or night will be an unforgettable experience for all to enjoy in Eko Atlantic.